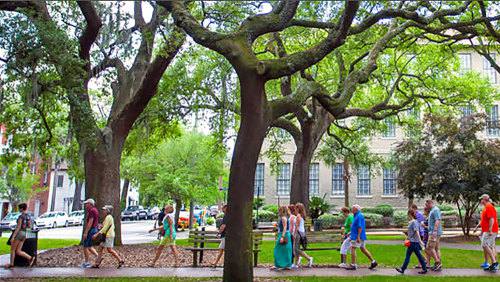 Savannah Walks
Savannah Walks provides walking tours to groups of any size and any age. The experienced tour guides are professional hosts with a passion for storytelling, and will relay all the tales of Savannah's past and present. You will experience the grand architecture and character of Savannah's past, which is still very much alive today. You will see it all up close and personal, in a way that you can only get in a walking tour can provide. Since 1996, Savannah Walks has been providing excellent customer satisfaction to more than 200,000 happy customers. They have a store front gift shop and bookstore, with a unique selection of books and local art and souvenirs.



A variety of themed tours are available, including The Savannah Stroll, The Gates & Gardens Tour, a Ghost Tour, even a Haunted Pubs & Taverns of Savannah Tour.
Most tours start at 10am and 1pm. The Ghost Tours are in the evening.
Reservations are required.
Call: (912) 385-0577
Don't want to walk? No problem. Check out Old Savannah Tours, and tour by trolley.