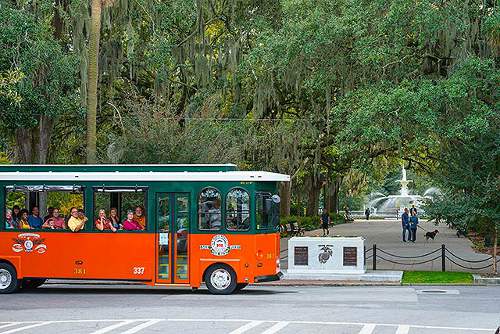 Old Town Trolley Tours
On Old Town Trolley Tours, guests can see the best of Savannah, and then some. Combining transportation and entertainment, this tour is one of the best around. Sharing witty tales and fun facts, a knowledgeable narrator will thoroughly cover all there is to know about this city, highlighting the best attractions, with 15 stops and more than 100 points of interest. The tour will take you all around the city, to places like Colonial Park Cemetery, Mercer House, Broughton Street, Andrew Low House, Telfair Museum, The Waving Girl, and much more.
Every day from 9:00 am to 5:00 pm. August through March-Last tour begins at 5:00pm.
Every day 9:00 am to 6:00 pm. April through July-Last tour begins at 6:00pm for a full tour.
There are 15 Stops on this tour: 1) Savannah Visitor Center 2) Bull Street Corridor 3) Madison Square 4) Forsyth Park 5) Massie Heritage Museum 6) Cathedral of St. John the Baptist 7) City Market 8) Columbia Square 9) Pirates' House 10) River Street 11) Parish House/Bay Street 12) The Exchange Bell/Factors Walk 13)Ellis Square 14) Ship of the Sea Museum 15) Exclusive Stop: Welcome Center
Boarding address: 234 Martin Luther King Blvd, Savannah, Georgia 31401
Call: (912) 233-0083