Tours near New York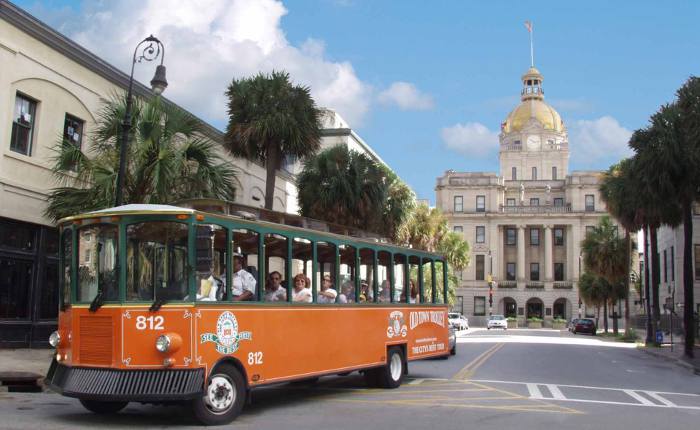 Savannah has dozens of tour providers, and finding the right one can be a daunting task to say the least. We recommend you start by deciding on your preferred mode of transportation: trolley, bus, horse-drawn carriage, hearse, fancy scooter, kayak, riverboat or your own two feet. Once you decide how to get around, choose the tour theme you;d like. Savannah offers a wide variety of tours and you are bound to find one that's right for you, including history tours, architectural tours, food tours, pub tours, architectural tours, even nighttime ghost tours.
Old Savannah Tours and Old Town Trolley Tours are two of the most popular tour companies in the city. Both offer guided "hop on on-off" tours of the Historic District. These tours offer guests the option to stay onboard and continue the tour or get off and explore the surrounding area, then catch the next trolley.
There are also some very popular walking tours, namely Explore Savannah! and Architectural Tours of Savannah. Carriage tours are also popular, and they include Carriage Tours of Savannah and Historic Savannah Carriage Tours. Another popular tour theme is the Hearse Ghost Tours. If you're looking more of an adventurous type, then the tour with Moon River Kayak might be your cup of tea.
Whoops. Looks like there are no entries available here.